Enphase M250 Microinverter – Commercial Application
The heart of the perfect commercial Microinverter system is the world-class Enphase M250 Microinverter.
The M250 System performs efficiently and saves money, lowering BoS costs to move energy from the inverters to the grid. Designed to support both 60-cell and 72-cell modules, the M250 System brings all our microinverter advantages to any commercial project including greater energy harvest, unparalleled reliability as well as flexible design and installation.
Click here for more information on the commercial application for the M250 model.
.
Enphase Microinverters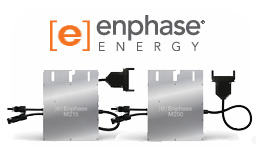 Enphase Microinverters provide more power, and you can order both the M215 and the M250 Microinverters from ZEROhomebills.com.
Both Enphase's Models have undergone an unprecedented, industry-leading one million hours of pre-launch product testing.
Key advantages include
Higher power and efficiency: Pairs with modules up to 310W with best-in-class 95.7% EU efficiency
Easy installation: Uses plug-and-play Engage Cable connectors
Safe: No high-voltage DC in the system means peace of mind and cost reductions
Intelligent: Precision insights enable faster, easier system and fleet management
Click here to view the M250 Microinverter or click here to view the M215 Microinverter.
Trackbacks and pingbacks
No trackback or pingback available for this article.
STAY CONNECTED
CUSTOMER CARE
HOW TO ORDER
ABOUT US
Categories
DIY SOLAR PANELS, SYSTEMS, KITS & BATTERIES, OFF-GRID INSTALLER