Generate your own electricity – make commercial roofs work
Are you an installer? Offer your customer a solar panel flat roof system that works as hard as they do. With Jinko MX panels and a Solis inverter – we'll show you how you can optimise any flat roof space.
Generate your own electricity – make commercial roofs work!
More Roof Space = More Modules = More Output
Flat roof mounting systems create shading between rows. So, the question arises; "How can I get the most from this roof space? Answer: By using optimised modules.
• Row spacing is reduced for optimised modules as there is lower influence from shading. More room for modules maximises the output potential of a flat commercial roof. The Segen Design Tool calculates reduced row spacing for you (as does the newly integrated Renusol design tool).
Lessen Lifetime Losses
Solar PV modules degrade at different rates – even if they're the same model and the same power. This is a problem as the lowest performing module dictates the output of that string. There may not be any discernible difference in the first year but ten years down the line you'll likely see some problem modules that will bring the whole string down. Question: How can I prevent this? Answer: Use Jinko MX optimised modules.
• Jinko MX modules work independently from each other so modules affected by disproportionate rates of degradation do not implicate system output.
Longer Strings = Less Cabling + Shorter Installation Time
Maxim optimisation allows for the modules to be connected together in longer string lengths and across different orientations. This results in a simpler string design on commercial projects therefore lower installation costs and faster ROI.
Lower Maintenance = Faster ROI
Maxim also allows for lower maintenance costs as the impact of soiling is restricted to the dirty module only, rather than affecting the output of the whole string. This means the requirement to clean is less than a standard system.
---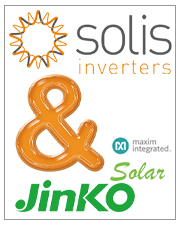 Why pair Solis inverters with Jinko MX modules?
Pairing Solis inverters with Jinko MX modules gives you the most competitive optimised solution available.
Additional benefits from Solis 3-phase inverters;
Efficient and reliable
A slim, lightweight 3-phase inverter
Ease of install
Offers over 98% max efficiency
Remote monitoring available
Go to Jinko MX modules →
Go to Solis three-phase inverters →
MAXIM OPTIMISATION
To easily understand and drive the benefits of Maxim integrated modules like the Jinko MX it is useful to quickly explain how a normal PV Inverter works with a string of non-optimised panels connected to it, then how that same inverter would fare with Maxim modules.
The below shows the benefits and emphasizes the differences between standard non-optimised modules and those that are Maxim integrated, such as Jinko MX.
Imagine a normal PV system; 10 x 300W solar panels connected in a single string to a SOLIS inverter – looks a bit like this;
Now if that same system and has just one damaged or shaded panel – and assuming that panel is only outputting at 50% of its efficiency – this is the result;
(In reality the effects are exaggerated, and studies indicate that just 10% shading can result in 50% decline in efficiency)
So, even though we only have damage/shading on a single panel, every other panel in that string is affected by the lowest performing module. The above graphic shows shading on a single module has resulted in a loss of half of all total site generation.
The same scenario on a Jinko MX system with one module limited to 50% output by damage or shading looks like this:
There is obviously a huge difference in the impact that shading or damage has, not just at a string level, but also down to module level.
Maxim integration optimises at cell-string level meaning that even on just one single panel, the effects of damage or shading are mitigated by Maxim.
CELL-STRING OPTIMISATION
How cell optimisation works?
JinkoSolar has developed the MX technology in collaboration with American semiconductor manufacturer Maxim Integrated Products. This technology makes it possible to optimise the module not only at the module level, but also at cell-string level.
Technical background
Each of the three "Maxim II Chips" on each module limit the open circuit voltage (Voc) in the module to 35V and the short-circuit current (Isc) to 12A. In addition, the chip optimises the three independently operating MPPT strings and thus guarantees the maximum energy yield per panel.
The graphic below shows a conventional module fitted with a standard optimiser that has a shaded portion at the bottom, the result is that the optimiser bypasses the weak cell-string completely.
The Jinko MX module is also shaded, but the three MX solar optimisers allows each cell-string to deliver maximum power under any environmental conditions, enabling more energy harvesting, denser panel layouts, and improved system reliability.
Imagine how much more energy a Maxim Integrated module will produce over the lifetime of a system, then multiply that by module quantity and you'll have some pretty impressive figures!
FYI: No additional hardware is needed to make use of the Jinko Maxim technology, and the choice of inverter is flexible. *
*Not compatible with SolarEdge or Enphase