Growatt Storage Solution
If you are an installer the Growatt Domestic Storage System And Battery Pack allows you to offer a unique storage solution to your customers. Your customers will be able to siphon and store excess PV produced energy, and utilize it at times when it's needed.
Buy Growatt Storage Solution for Your Home
Growatt Range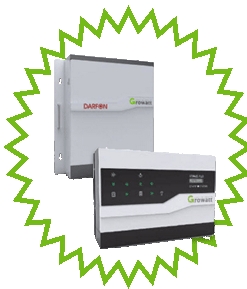 The Growatt Domestic Storage System is the brains, assessing the energy produced and diverting power to the small Battery Pack. The Battery Pack can then be used to run small household items outside of generation time.
Main features
Allows for self-consumption
Easy to install
Easy to add into Grid-tie installed solar system (revisit past customers)
Has Internal DC switch included
Capacity of storage can be expanded
RS232/Ethernet/Wi-Fi Ready
Comprehensive Growatt 5 warranty program.
Battery Pack has a capacity of 4kWh
You can buy both the storage System and the battery pack separately or as a pack Here.
Growatt

New Energy Technology Co.,Ltd

was established in 2010, focusing on providing solar inverters and system solutions for global market. Until now, the company has reached over 2.7GW installation worldwide, famous as a world leading manufacturer of cost-effective solar inverters with high efficiency.

Inverter is the key component of a solar system, which determines the importance of its technology and reliability. Growatt is always focusing on developing advanced solar inverter technology, and have already got good results in this area. As the first Asian inverter supplier awarded with A+ by Photon Lab, Growatt never stops striving for higher efficiency of inverter. Tested by Intertek in June 2013, the maximum efficiency of new released product Growatt 20000HE-TL3 reaches 99.06%, which is far beyond other inverter manufactures in the world. Jo

in our 

ZERO Home Bills Community. 

BEST Solar Energy Storage Products from the BEST Solar Brands at the BEST Prices for ZERO Home Bills on ZEROhomebills.com by Solaranna.
Related links to the Growatt GBLI 5001 5kW Li-ion Battery Pack :