IKEA takes on Tesla by launching its own home battery
IKEA takes on Tesla by launching its own home battery. The Swedish brand's partnership is the latest in its move into the connected home sector.
Elon Musk may be focused on the launch of the Model 3, but when it comes to Tesla's other business – home solar power and storage – it just got a major new rival: IKEA. The Swedish megabrand has announced today that it will offer solar storage to accompany its previously available rooftop solar cells.
IKEA's batteries will be offered by Solarcentury, the UK's biggest solar supplier. IKEA isn't actually making the batteries itself: Solarcentury will provide the hardware, from existing suppliers including LG and German manufacturer Sonnen. Those companies already sell batteries. IKEA's advantage? Cost, and scale: IKEA says its solar and battery offerings will start from £3,000, depending on location, type of building, and ease of installation. That's compared with more than £5,000 for a 14 kWh Tesla Powerwall. However, it's not hugely cheap: UK startup Powervault offers its own home battery product from £2,500. IKEA takes on Tesla by launching its own home battery
As more households in the UK install solar and purchase electric cars, installing a home battery makes sense: IKEA and Solarcentury say users could save up to £560 per year, in part because the average home with solar sells its surplus energy back to the National Grid at a loss. (Although, IKEA also estimates the average time to pay off the investment will, in fact, be 12 years.)
Storage is perhaps the most discussed subject in energy circles at the moment: just last week, the UK government announced plans to invest £246 million in battery research, including the creation of a National Battery Institute.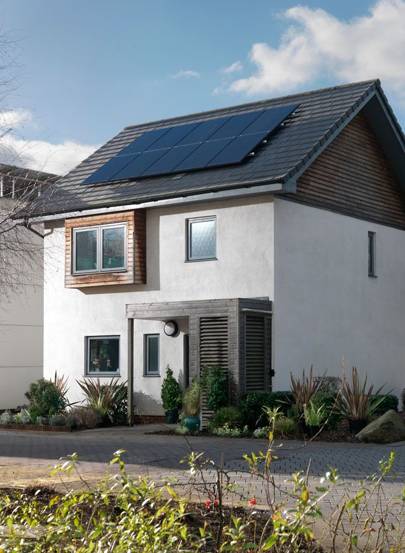 For IKEA, the move is the latest in a series of innovative product announcements, from its Home Smart products – including the TRÅDFRI lighting range, a cheaper rival to the likes of Phillips' Hue, which will soon offer Apple Homekit and Amazon Alexa integration – to collaborations with Tom Dixon, Teenage Engineering, and others. The company itself is also noted for its focus on sustainability, from offering electric charging points to installing solar panels on its stores.
"We know that our customers want to live more sustainably and together with Solarcentury we will help them to get more value from their solar panels and do just that," Hege Saebjornsen, IKEA's Sustainability Manager for UK and Ireland said in a press release.
Susannah Wood, head of residential solar at Solarcentury, added: "We believe IKEA and Solarcentury are bringing the most competitive package to the market yet so more people than ever before can profit financially and environmentally by producing their own energy."
Join over one hundred influencers and leaders working in energy at the inaugural WIRED Energy event in London this October.
Article by By OLIVER FRANKLIN-WALLIS on Wired.co.uk
STAY CONNECTED
CUSTOMER CARE
HOW TO ORDER
ABOUT US
Categories
DIY SOLAR PANELS, SYSTEMS, KITS & BATTERIES, OFF-GRID INSTALLER