Introducing Victron Energy
Victron Energy has a strong reputation for technical innovation, reliability and quality built products. ZEROhomebills.com and its partners are now stocking the Victron Energy Multiplus and Quattro Hybrid Inverters.
The Victron Energy, based in the Netherlands, have been manufacturing power conversion equipment since 1975 and become well known around the world for producing reliable off-grid battery inverter/chargers and a wide range of quality, affordable solar controllers. Victron especially shine in the automotive/RV/boating market where micro power systems are common and being one of a few high quality manufacturers in this highly competitive market.
Huge Range Of Victron Solar Products
Victron Energy have possibly the widest variety of solar products of any manufacturer, with everything from tiny solar controllers up to a large 15kVA grid-interactive inverter/chargers. Plus a seemingly unlimited combination of add-ons and accessories to create everything from simple battery monitors to remote AC or DC-coupled off-grid power systems.
Main products manufactured by Victron Energy
Battery inverters
Inverter/chargers
Grid-Interactive inverter/chargers
Battery chargers
Solar charge controllers (PWM & MPPT)
Battery monitors
Remote control /system monitors
Battery balancers and accessories
Batteries – Lead-acid & lithium-ion
Introducing Victron Energy – Energy. Anytime. Anywhere
The Victron MultiPlus Hybrid Inverter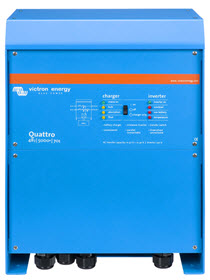 Multi-functional – The MultiPlus is a powerful true sine wave inverter, a sophisticated battery charger that features adaptive charge technology and a high-speed AC transfer switch in a single compact enclosure.
Unique PowerAssist Feature – The MultiPlus will prevent overload of a limited AC source.
Uninterrupted AC Power (UPS function) – In the event of a grid failure or generator power being disconnected, the inverter within the Multi is automatically activated and takes over the supply to the connected loads. This happens so fast that computers and other electronic equipment will continue to operate without disruption.
Virtually unlimited power thanks to parallel operation – Up to 6 Multis can operate in parallel to achieve higher power output. Three phase or split phase operation is also possible.
0Bills and its partners have put together some great value Victron Multiplus Grid Backup packages available in our web-store here > 
View the Victron MultiPlus Here >
Battery Compatibility
The Victron range of inverters are compatible with a wide range of lead-acid and lithium battery systems and the Victron MPPT solar charge controllers are fully programmable to match the charging parameters of almost any battery on the market. However, 'managed' lithium batteries require specific communications (Can-bus) which means the battery must be certified to be used with Victron.
The most popular 'managed' lithium batteries such as LG Chem, BYD and Pylontech are all compatible with Victron. However not all batteries, including the LG chem RESU, will not function with Victron inverters in off-grid installations You can find all the documentation and guidelines for all the compatible batteries in the following link – Victron battery compatibility guide.
The Victron Quattro Hybrid Inverter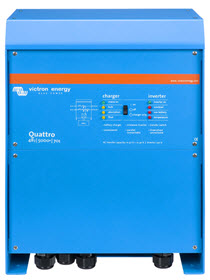 Two AC inputs with integrated transfer switch – The Quattro can be connected to two independent AC sources
Two AC Outputs – The main output has no-break functionality. In the event of a grid failure or generator power being disconnected, the Quattro takes over the supply to the connected loads.
Unique PowerAssist Feature – The Quattro will prevent overload of a limited AC source.
Virtually unlimited Power thanks to Parallel Operation – Up to 6 Quatrros can operate in parallel to achieve a higher power output.
View the Victron Quattro here >
Latest Victron Products
One of the things that set Victron Energy apart from other manufacturers is that they are continually developing new innovative products and updating existing hardware and software with smart new features. As inverter and power conversion technology has improved substantially over recent years, so too have the range of inverter/chargers and MPPT's from Victron. Below are just a few of the more recent products.
Multiplus II GX with inbuilt Wifi and ethernet
EasySolar 2 GX inverter with 250V 70A MPPT charge controller
New Phoenix 'Smart' Inverters 1600VA and 2000VA with bluetooth
Concept Inverter – RS 6000 with 450V 80A MPPT
Victron Energy B.V. designs and sells power solutions for automotive, industrial, marine, mobility, off-grid, and telecom markets. Its products include inverters, chargers, inverter/chargers, isolation transformers, autotransformers, battery monitors, batteries, panels and system monitoring products, DC distribution systems, transfer switches, cables, battery isolators and combiners, DC/DC converters, battery protection products, multipower products, solar products, solar charge controllers, and solar inverters and panels. The Company was founded in 1975 and is based in Almere Haven, the Netherlands. Join our ZERO Home Bills Community. The BEST Off-Grid Solar Products from Victron Energy at BEST Prices for ZERO Home Bills on ZEROhomebills.com by Solaranna. 

Related links to the Victron Off-Grid Solar :
Trackbacks and pingbacks
No trackback or pingback available for this article.