LED Lamps from Affinity
ZEROhomebills offers premium high quality LED lamps from Affinity.
Add LED lamps to your next order and offer your customer an all round service, not only installing a solar array, but also helping them get smarter about their energy.
These LED's have many advantages such as:
Long lasting life – estimated lifespan of 25,000 hours
Your customers can get up to 85% energy saving
Quick and easy to install – same as your average light bulb
3 year no quibble replacement guarantee
Instant light – no delay in lighting like some alternatives
Made with high quality components
GU10 LED's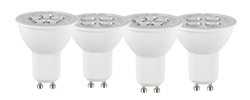 From the Affinity range, by far the most in demand are the GU10 LED's.
As a popular fitting type, this bulb could be the perfect add on for future installations or even as a revisited retrofit.
Based on a 5w GU10 lamp your customer could have an annual saving of £6.90 per lamp. Based on an average of 25 fittings per home, you could give your customer an annual saving of £172.50. That equals a possible lifetime saving of £3967.50 (*based on 23 years lifetime, 25,000 hours at 3 hours per day.)
You can purchase the following GU10 LED's:
Take a look at the full LED range here.
STAY CONNECTED
CUSTOMER CARE
HOW TO ORDER
ABOUT US
Categories
DIY SOLAR PANELS, SYSTEMS, KITS & BATTERIES, OFF-GRID INSTALLER