Nest's learning thermostat finally understands your boiler
Nest Labs has announced a new generation of its 'learning' thermostat, which it says will be able to solve one of the most profound problems in all of UK DIY: your boiler.
Most homes in the United States are heated with central air conditioning, for which the original Nest was a perfect fit — able to adjust temperature exactly, at the source. But in the UK, Nest told WIRED in a pre-briefing for the new range, an average of 75 percent of your energy bill pays for heating and hot water, which in turn powers your radiators, or in-wall heating.
And as any internet-connected home monitoring device needs to be able to cope with that, it's a problem.
In addition to being 40 percent larger, with a bigger and brighter screen, a new user interface and the ability to display a clock or target temperature when it senses movement, the new Nest also understands your boiler.
.
.
The gadget is now able to control your hot water tank, adjusting the schedule by which water is heated, deliver a boost when you're on your way home from a winter walk and fancy a bath, and can automatically save you money when you're not at home. "It programs itself, it saves on energy and it's extremely simple to use," said Lionel Guicherd-Callin, product marketing for Works with Nest. Up to 40 percent of people in the UK do not have a thermostat, Nest told WIRED in a briefing. "But when we show the ability to have everything combined into one, customers were very quickly understanding and adjusting," Guicherd-Callin said.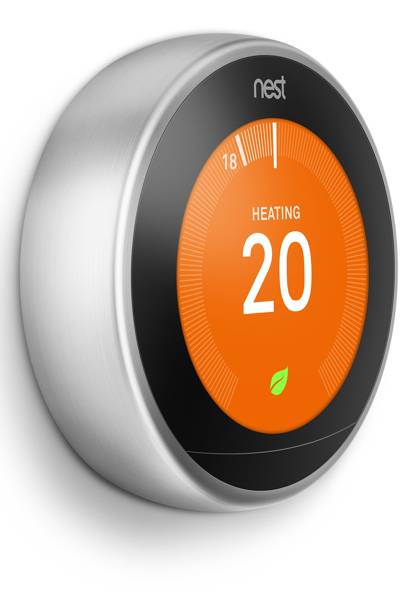 Lionel Paillet, general manager Europe, added that some back-end elements such as the algorithms used to calculate temperature adjustments have to be different in the UK — but said the front-end interface would remain the same.
There is some evidence to suggest that UK customers are turning away from Internet of Things products over concerns with security and reliability. Recent government initiatives to increase monitoring of internet communications has also been seen as a potential threat to companies, like Nest, which rely on two-way encryption.
Asked if that will affect Nest's business in the future, Paillet said Nest remained committed to security. While not commenting on current government plans, Paillet said that if privacy doesn't exist "Nest does not exist".
The third generation Nest will also allow two-way communication between compatible boilers with OpenTerm, working out how to maintain the requested temperature by burning just the right amount of gas — not turning it off or on.
The new Nest will also has a brighter, 229-pixels-per-inch display, and a feature called Farsight that usefully adjusts the display when you're across the room. You can even make it look like an analogue clock — apparently a much-requested feature. Like the previous generation the new Nest can 'talk' to other connected products including those from Philips Hue, Bosch Siemens and LG via its 'Works with Nest' program.
The new Nest Learning Thermostat is available for £199, with a stand available for £29 extra. The system is available at a discount from several energy companies.
.
Article by By MICHAEL RUNDLE . Read more on Wired.co.uk
STAY CONNECTED
CUSTOMER CARE
HOW TO ORDER
ABOUT US
Categories
DIY SOLAR PANELS, SYSTEMS, KITS & BATTERIES, OFF-GRID INSTALLER