Description
If you have any technical queries about this product or wish to report any issues with the information on this page then please use the
Contact Form
to contact us.
Supplier Part No: LED0007
Weight: 0.05 kg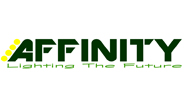 Affinity Lighting Solutions has been developed to drive affordability, balanced with quality, through LED lighting products, aiming to create an extensive range of products that will benefit residential and commercial markets by delivering significant energy and financial savings.
They see LED lighting as the future in light, supplying products with not only value for money and quality in mind, but reliability and longevity.