Description
SolarEdge P600 Optimiser 600W MC4 2×60 Cell 1.8m
If you have any technical queries about this product or wish to report any issues with the information on this page then please use the
Contact Form
to contact us.
SolarEdge P600 Optimiser 600W MC4 2×60 Cell 1.8m
Supplier Part No: P600-5RM4MRL

Weight: 0.83 kg

Min PPT Voltage: 13 V

Max PPT Voltage: 80 V

DC Startup Voltage: 13 V

DC Shutdown Voltage: 80 V

Max Input Voltage: 96 V

Max DC Power: 600 W

Max AC Power: 0 W

Max DC Current: 10 A

Max DC Inputs: 2

Has DC Fuses: 0

Connector: MC4

Included Connectors: 2

Euro Efficiency: 98.6 %

Transformer: N/A

IP Rating: IP65

MPPT Trackers: 1

Has Integrated DC Switch: No

Warranty: 25 years

SolarEdge P600 Optimiser 600W MC4 2×60 Cell 1.8m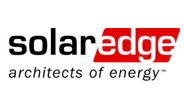 SolarEdge P600 Optimiser 600W MC4 2×60 Cell 1.8m
SolarEdge invented an intelligent inverter solution that revolutionized the way power is harvested and managed in a solar photovoltaic (PV) system. The SolarEdge direct current (''DC'') optimized inverter system maximizes power generation at the individual PV module level while lowering the cost of energy produced by the solar PV system. Addressing a broad range of solar market segments, from residential solar installations to commercial and small utility-scale solar installations, the SolarEdge system consists of power optimizers, inverters, and a cloud-based monitoring platform.
The SolarEdge system enables superior power harvesting and module management by deploying power optimizers to each PV module while maintaining a competitive system cost by keeping the alternating current (''AC'') inversion and grid interaction centralized using a simplified DC-AC inverter.
Module manufacturers, installers, and system owners enjoy the benefits of SolarEdge technology, which allows maximum power production through module-level MPPT, optimal roof utilization through constraint-free design, and enhanced maintenance and accurate troubleshooting through module-level monitoring. Another benefit is the guaranteed automatic DC shutdown for installers, maintenance personnel, and firefighters through the unique SafeDC™ mechanism.
Since beginning commercial shipments in 2010, SolarEdge has shipped approximately 2.1 Gigawatt (''GW'') of our DC optimized inverter systems and products have been installed in solar PV systems in more than 70 countries
ZEROhomebills.com ZERO Home bills ZERO Utility Bills ZEROutilitybill.com solaranna.co.uk
Visit us on Facebook or join our ZEROhomebills Community.
You are an installer? Join our ZERO Bills Alliance Program. 
BEST Products from the BEST at the BEST Prices available in your market. Further discounts on bulk purchase.