Simplifying Battery Sizing – Explained by Segen UK`s Expert
Segen expert tech, Chris Feeney simplifies battery sizing. You've probably heard: battery storage is the hot topic in the renewables industry in the UK as well as globally. Declining PV revenue availability, increasing energy purchase prices and eye-catching headlines regarding Elon Musk, as well as rapidly improving technology and an emerging regulatory framework, means that it's a great time for learning more about battery storage. Sizing the battery properly is a crucial requirement and this document explains the most important factors that can help simplify sizing.
You Need to Know Loads
In order to size a battery storage system correctly, you have to know the answer to two important questions about the building:
What are the instantaneous power demands?
How long do they last for?
In the UK, where there is a very reliable national grid, there is no need to have the battery system providing enough energy to run the whole house. However, you are likely to be installing the storage in order to lower the energy bills, so you still need some knowledge of how much energy the building is using, and how that energy consumption is distributed throughout the day.
This is an example daily load profile that shows the difference between base loads (the lower level, constant consumption) and the sudden, higher power demands that happen at peak times.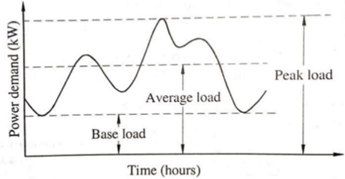 Sizing a storage system to provide, or contribute to, the baseline consumption is much simpler than trying to cater for all the sudden consumption peaks that often don't coincide with when PV energy is available. The cost of the equipment, the complexity of the sizing and the stress of the install are all reduced by deliberately catering for base loads only, and letting the reliable grid deal with the consumption peaks.
An average home in the UK has a baseline consumption of less than 500W, which means 2-3kWh of stored energy would be sufficient to supply those loads all evening, all year. ZEROhomebills.com Shop has several self-consumption storage packages which can be retro-fitted into a building with PV to do exactly that.
SHOP for BATTERY STORAGE KITS HERE >> 
Apart from the amount of battery capacity required in order to cater for the identified loads, the other important factor is when there is excess energy is available to charge the batteries. Depending on the building type, the daily energy consumption total will be distributed differently, and may have an effect on what battery storage capacity is appropriate. This graph compares the load profiles of different building types, and indicates that there may be less excess energy available during the day in a commercial building for charging a battery, compared to a domestic one where the peak tends to be in the evening.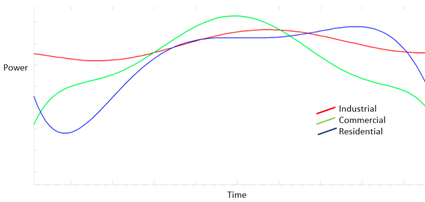 Knowing what time of day the occupants tend to use most energy is another important factor when deciding what battery capacity is appropriate. A house with 3kW of PV installed, but with consumption throughout the day, will not fully charge, and therefore doesn't need, a large battery capacity.
Battery Consumption Monitoring

Of course, the best way to see what how much excess energy there is, and when, is to install consumption monitoring equipment and collect some data. Many inverter manufacturers offer an energy meter which can be added to the existing PV system to then overlay consumption data on the monitoring portal the user is already familiar with. ZEROhomebills.com also has consumption monitoring options, such as Solar-Log or the Enphase Envoy, that can be retro-fitted to any PV system.
Segen Battery Calculator Tool – Making Your Life Easier
You can use the Battery Calculator to show your customer how different storage systems compare based on their existing PV and energy consumption. This could be used as part of your discussions with them about whether to target base-loads only with storage, or other specified loads as well.