SolarEdge HD Wave Warranty Extensions
SolarEdge HD Wave Warranty Extensions are offered across the HD Wave range of SolarEdge Inverters. Record breaking efficiency and superb reliability are key features of the HD wave range, meaning SolarEdge can offer reduced prices on the 8YR and 13YR warranty extensions.
Order your SolarEdge HD Wave Inverter now >>
SolarEdge HD Wave Range
This award winning technology significantly decreases inverter size and weight yet still achieves record efficiency at 99%. SolarEdge's HD-Wave technology inverter, winner of the prestigious 2016 Intersolar award, breaks the mold of traditional inverters. Using a novel power conversion technology that is based on a distributed switching and powerful DSP processing, the HD-Wave technology inverter is able to synthesize a clean sine wave that leads to a dramatic reduction in the magnetics and heavy cooling elements. This small and lightweight inverter enables simplified shipping and storing and one-person installation. The record-breaking efficiency allows more energy production for an improved ROI.
We are pleased to be stocking the SolarEdge inverters through our partner in UK which are available in a range of sizes from 2000W up to 5000W.
Main features include:
Small lightweight and easy to install at less than 10 kg
Built-in module-level monitoring
98.9% weighted efficiency (33%-50% less losses than the market)
Backward compatible with existing SolarEdge systems
HD-Wave Technology Components
HD-Wave vs. Traditional Technology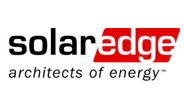 Providers of distributed solar power harvesting and PV monitoring systems.  Solar Edge maximizes power generation of residential and large scale PV systems for faster return on investment.
Founded in 2006, SolarEdge provides an intelligent inverter solution that has changed the way power is harvested and managed in solar photovoltaic systems. The SolarEdge DC optimized inverter system maximizes power generation at the individual PV module-level while lowering the cost of energy produced by the solar PV system. Since beginning commercial shipments in 2010, SolarEdge has shipped more than 1.3 Gigawatt (''GW'') of its DC optimized inverter systems, including over 220,000 inverters, its products have been installed in PV systems in more than 73 countries, and more than 100,000 systems are monitored in its cloud-based monitoring portal.
STAY CONNECTED
CUSTOMER CARE
HOW TO ORDER
ABOUT US
Categories
DIY SOLAR PANELS, SYSTEMS, KITS & BATTERIES, OFF-GRID INSTALLER