The Victron MultiPlus AC Battery Backup System
The Victron MultiPlus is an AC battery backup system which has been built with reliability and quality in mind.

Why the Victron MultiPlus?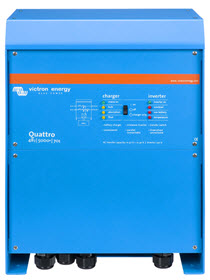 Multi-functional – The MultiPlus is a powerful true sine wave inverter, a sophisticated battery charger that features adaptive charge technology and a high-speed AC transfer switch in a single compact enclosure. Models range from 800VA to 5000VA per module.
Unique PowerAssist Feature – The MultiPlus will prevent overload of a limited AC source. First, battery charging will automatically be reduced when otherwise an overload would occur. The second level will boost the output of a generator or shore side supply with power taken from the battery.
Uninterrupted AC Power (UPS function) – In the event of a grid failure or generator power being disconnected, the inverter within the Multi is automatically activated and takes over the supply to the connected loads. This happens so fast that computers and other electronic equipment will continue to operate without disruption.
Virtually unlimited power thanks to parallel operation – Up to 6 Multis can operate in parallel to achieve higher power output. Three phase or split phase operation is also possible.
0Bills have put together some great value Victron Multiplus Grid Backup packages available from our shop here >>
Victron Energy B.V. designs and sells power solutions for automotive, industrial, marine, mobility, off-grid, and telecom markets. Its products include inverters, chargers, inverter/chargers, isolation transformers, autotransformers, battery monitors, batteries, panels and system monitoring products, DC distribution systems, transfer switches, cables, battery isolators and combiners, DC/DC converters, battery protection products, multipower products, solar products, solar charge controllers, and solar inverters and panels. The Company was founded in 1975 and is based in Almere Haven, the Netherlands. Join our ZERO Home Bills Community. The BEST Off-Grid Solar Products from Victron Energy at BEST Prices for ZERO Home Bills on 0Bills. 

Related links to the Victron Mutiplus Inverter/Charger :
Trackbacks and pingbacks
No trackback or pingback available for this article.