Win a trip to Nürburgring with SMA
Win a trip to Nürburgring with SMA; since SMA are offering installers the opportunity to win a VIP trip for two to Nürburgring for an exclusive race day, dinner, and overnight stay the legendary race track hotel.
Simply install SMA TS4-R optimizers from August 1st – December 31st 2017 and submit your invoices,and you will be in with a chance of winning. Companies with headquarters in France, UK, Belgium and the Netherlands that purchase and install TS4-R components themselves, are eligible to participate. Participants can join at any time during the promotion period.
All the details about the competition can be found here
Win Vouchers for Installing Optimizers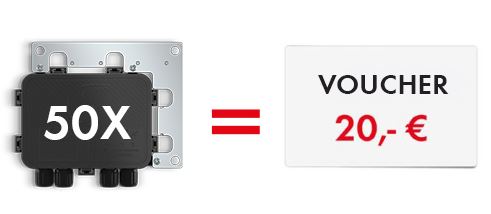 For every 50 TS4-R components that are registered your company will receive a MasterCard voucher worth €20
Simply send us your invoices (August 1 to December 31, 2017) to action@SMA-Benelux.com stating ' Sales promotion TS4-R'.
Your registered TS4-R-M, TS4-R-S and TS4-R-O components are then tallied
As soon as you reach 50, 100, 150, etc. devices, you will automatically receive your voucher.
Your VIP day at the Nürburgring
Experience the ring at first hand. Take a look behind the scenes of motor racing, start the Race of Champions at full power and drive the Grand Prix track at a breathtaking speed as a copilot.
Race of Champions
A real racing experience without the emissions in a fully electric Renault Twizy. The Race of Champions is modeled on the famous annual event, where the world's best racing drivers come together for a direct comparison, measuring their skills in identical vehicles. The winner of the Race of Champions will be treated to a special 700-horsepower experience on the racetrack.
Copilot ride
At the side of a professional racing driver, you can experience the breathtaking combination of speed and vehicle control on the Grand Prix racetrack.
Backstage tour
Get a glimpse behind the scenes of the Nürburgring on a backstage tour. These areas are not usually accessible for visitors and can only be experienced as part of this exclusive tour. Knowledgeable guides will provide you with information and entertaining stories spanning an eventful history of almost 90 years. Among other things, you will get to view the Grand Prix drivers' paddock, the HAZET pits, the media center and the VIP terrace. From the roof of the pit building, you will enjoy an exclusive view of the Grand Prix track.
Ring°werk motorsport dinner
Immerse yourself in the thrilling history of the Nürburgring and experience the fascinating story of the world's most demanding and legendary racetrack. We invite you to enjoy an unforgettable dinner surrounded by vehicles steeped in history, including the unique Silver Arrow replica and genuine Formula 1 racing cars.
All the details for registration can be found here.
REGISTER NOW AND GET INVOLVED:
SMA Solar Technology AG
Sales Promotion TS4-R
Sonnenallee 1, 34266 Niestetal, Deutschland
E-Mail: action@SMA-Benelux.com
STAY CONNECTED
CUSTOMER CARE
HOW TO ORDER
ABOUT US
Categories
DIY SOLAR PANELS, SYSTEMS, KITS & BATTERIES, OFF-GRID INSTALLER